Discover Original Grass Mats – Where Beauty Meets Sustainability
Welcome to the world of original grass mat, where you can add the beauty of nature to your surroundings without the usual upkeep. If you're tired of the constant work that comes with natural lawns, our original grass mats provide an excellent solution.
The Beauty of Original Grass Mat
 1. Natural Beauty
Our original grass mats perfectly mimic the appearance of real grass, transforming your space into a lush and inviting green haven.
 2. Easy Maintenance
No more spending your weekends on lawn care. Our grass mats are low-maintenance, giving you more free time to relax and enjoy your space.
Why Choose Our Original Grass Mat?
 1. Environmentally Friendly
In a world that values sustainability, our grass mats are eco-friendly. They save water, reduce the need for harmful chemicals, and contribute to a healthier planet.
2. Perfect for Any Space
Whether it's your home, a commercial area, a playground, or any place in need of greenery, our original grass mats are a perfect fit.
Benefits of Original Grass Mats
1. Long-Lasting
Our grass mats are built to withstand various weather conditions, ensuring your space stays beautiful for a long time.
2. Easy to Install
Transforming your space is quick and easy with our simple installation process. Enjoy your green oasis without delay.
 Caring for Your Original Grass Mat
 1. Keep It Clean
Maintain the fresh look of your grass mat by keeping it clean and free of debris and organic matter.
 2. Protect from Sunlight
Extend the life of your grass mat by applying a UV protectant to shield it from the sun.
 Contact Us for Your Original Grass Mat Needs
Conclusion:
In 2023, original grass mats continue to be a popular choice for those who want to add beauty, simplicity, and eco-friendliness to their space. Our premium mats cater to these needs, offering versatility, easy maintenance, and sustainability. Discover the charm of original grass mats – get in touch with us today!
Bermuda grass is a perennial lawn or turf grass grown as forage. It is one of the most popular of the warm season grass. It can easily be grown by seeds.
Bermuda grass is a medium- to fine-textured warm-season turfgrass that spreads by rhizomes and stolons. It has excellent heat, drought, and salt tolerance. Bermuda grass is the most widely used species on athletic fields and golf course fairways/tee boxes due to its high wear tolerance and rapid recovery.
The color of this grass is usually dark green and spreads by rhizomes and stolons. This grass has the ability to grow in extreme climate conditions because of its extensive root system. It has a good tolerance capacity against insects and diseases. Bermuda grass can grow in coastal areas as well.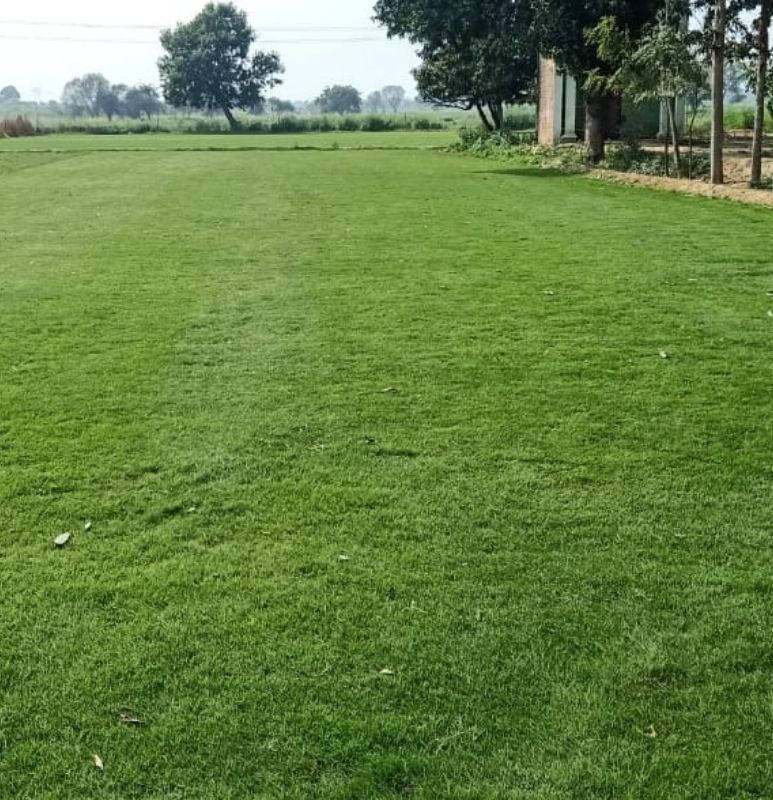 Seeds Specifications
| | |
| --- | --- |
| Common Name | Villa Stella, Bermuda grass, Dhoob, Dhurva grass, Dubo, Dogs tooth grass, Bahama grass, Devils grass, Couch grass, Indian doab, Arugampul, Grama, Wiregrass, and Scutch grass. |
| Height | 1-2 inches |
| Difficulty Level | Easy to grow. |
Planting And Care
Bermuda grass care is not difficult
Light daily watering is all that is necessary while the grass is establishing
Once the grass is established, the watering frequency can be decreased, but the amount of water per watering session increased
As soon as the grass reaches 2 inches, it can be mowed with a sharp blade
Mowing will help the grass toughen up and spread
Once in a year rake the lawn before the rain and top dress with a rich mixture of decomposed manure and soil
This will accelerate the grass with new vigorous growth
Fertilize six weeks after planting with a complete fertilizer that releases nitrogen slowly
Bermuda Grass Care
You can grow lawn grass by two methods, direct sowing and by raising nursery
The best time for planting Bermuda grass seed is in late spring or early summer
In ideal conditions, Bermuda seeds can germinate in seven to ten days and can fully grow as grass within 60 to 90 days
If conditions are not ideal, it may take a longer time
During germination, Bermuda grass needs a lot of water and the soil needs to be always kept moist
Use 1 – 1
3kg of seed per 1000 square feet
Start by raking the area to be seeded until it is as smooth as possible
Make a mixture of equal parts of sand and seed
The seed can be broadcast by hand to smaller areas
To avoid skips on the lawn, distribute half the mixture lengthwise and half of the mixture crosswise
| | |
| --- | --- |
| Sunlight | Full sunlight |
| Watering | Water once or twice a week maximum |
| Soil | Best in sandy clay or soils that will crumble in your hand when squeezed. |
| Temperature | 15 degrees and above |
| Fertilizer | Fertilize six weeks after planting with a complete fertilizer that releases nitrogen slowly. |
Bermuda Grass Special Feature
Best for lawns and sports grounds.
Bermuda Grass Uses
Ornamental Use:
Bermuda grass is planted for beautiful and durable grass lawns
Medicinal Use:
Used as a traditional herb in Ayurvedic medicines
It is beneficial to wounds, piles, eczema, urticaria, injuries, eye problems, skin rashes, constipation, indigestion, constipation, mental debility, diabetes, epilepsy, vaginal problems, menstrual problems, gynecological problems